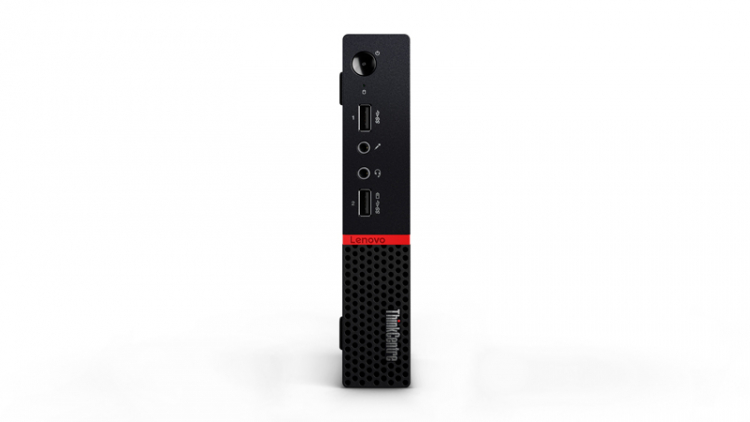 Lenovo ThinkCentre M715
AMD PRO A10-8770E (2MB Cache, 2.8GHz), 8GB DDR4-SDRAM, 256GB SSD, LAN, Windows 7 Professional 64-bit
Description
Specifications
SKU: 10VHS0U100
Warranty: 3 Years Onsite Warranty
Big on performance. Small in design.
With a 1-liter chassis, the ThinkCentre M715q Tiny desktop has a super-small footprint. Deployable practically anywhere, it can be positioned vertically or horizontally. In addition to powerful AMD Ryzen™ 3 Pro processing, support for multiple displays, and high-speed USB ports, this flexible PC is made to last—so you can focus on your business, not your IT.
IT admin's dream
With the M715q Tiny, you can create your own modular all-in-one PC. Insert the Tiny inside the back of the optional ThinkCentre Tiny-in-One (TIO). Keep costs down by choosing to upgrade components separately, and get more use from your assets over time. What's more, the M715q Tiny is guaranteed to have platform availability for at least 24 months, so you can manage your PC lifecycle more economically.
Packs a big punch
The M715q Tiny powers on through convenient keyboard controls to get you up and running almost instantly. The PCIe SSD storage coupled with 3D NAND technology allows you to seamlessly switch between tasks, and handle large files and applications with ease. And its fast charging USB port enables quick charging and data transmission even when your PC is off.
Big on security
The M715q Tiny is optimized for protection and security. Armed with Trusted Platform Module (TPM), which works in conjunction with Windows 10 Pro, this PC encrypts all your data, as well as your passwords. What's more, Smart USB Protection lets you control what devices can connect so you can prevent any data leaks. With the M715q Tiny, you can keep all your confidential and critical data safe without worry.
Tough as it is tiny
The M715q Tiny is built to last in any environment. It's tested against military-specification requirements, as well as rigorous quality checks. From enduring arctic temperatures of -20 degrees Celsius, to desert heat of 60 degrees C, this device can more than handle anything from minor bumps to extreme temperatures and dusty conditions.
Easily extend performance & system longevity
Whether you're operating in a workshop or just in a regular office, dust can build up over time and affect performance and reliability. The ThinkCentre M715q Tiny has a dust shield that reduces dust intake by almost 42 percent*— so your machine will last longer, with less maintenance.