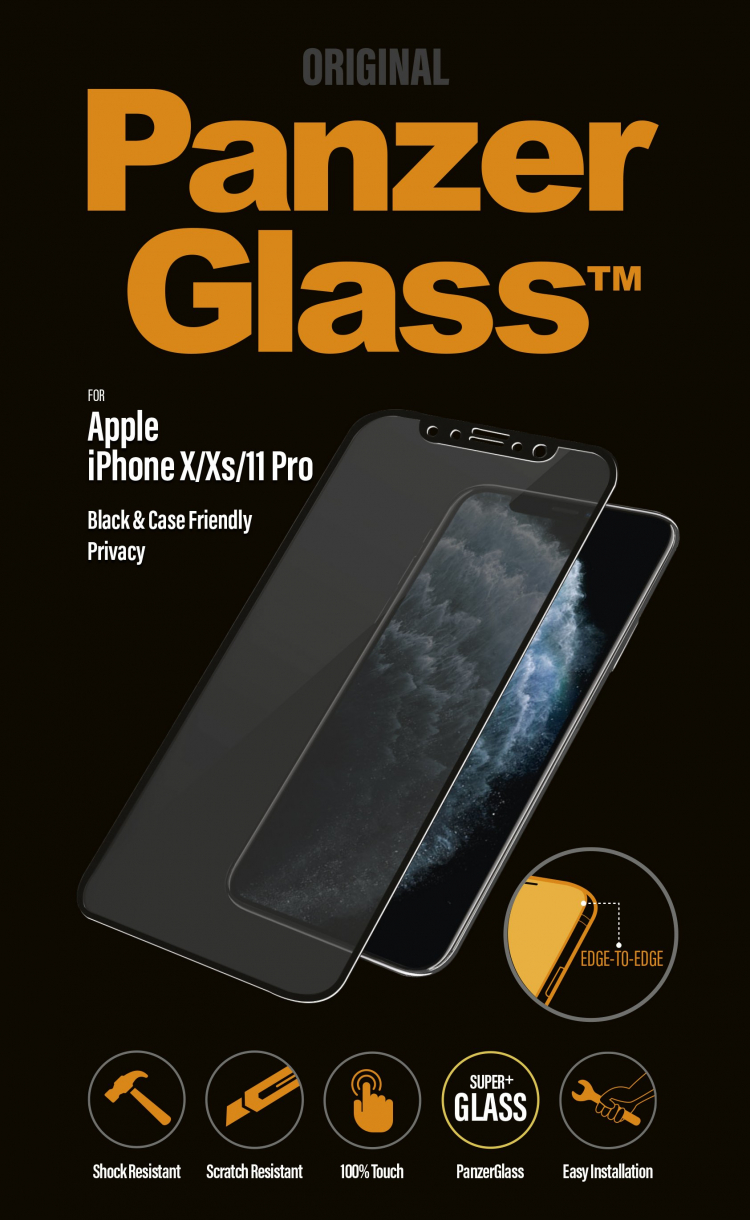 PanzerGlass Apple iPhone X/Xs/11 Pro Edge-to-Edge Privacy
Apple iPhone X/Xs/11 Pro Edge-to-Edge Privacy
Ready to ship from an EU warehouse
Get it by 31/01/2022 - 03/02/2022 with free shipping to any EU country
Condition:new
Description
Specifications
SKU: P2664
Warranty: 2 Years Manufacturer Warranty
PanzerGlass™ Edge-to-Edge Apple iPhone X/Xs/11 Pro Privacy screen protector is a Case Friendly screen protector made of flat tempered glass and which provides both, superior protection for the entire front surface of the device, and for the content of your display.
The Privacy enabled PanzerGlass™ features the same core benefits as the original glass, while also protecting the content of the display. A confidentiality filter renders the content of the display almost invisible to everyone except the user of the device. At the same time, it reduces blue light exposure and features an anti-glare coating, that reduces light reflections reaching your eyes without affecting the visibility of the display.
The glass features at least one precision drilled hole that matches the position of the loudspeaker of the device. Additional openings may also be used to accommodate sensors, buttons and camera elements. The shape of this tempered glass is optimized to maximize protection while maintaining all functionalities of the device and ease of use. All edges are carefully rounded and polished and Edge-to-Edge PanzerGlass™ is furthermore coated with an "anti-smudge" material in order to maintain and secure an excellent touch and feel, just as it would feel with the original glass.
Some PanzerGlass™ Edge-to-Edge models features a colored frame to match or enhance the original design of the device. This glass features full silicone adhesive which is carefully optimized to match the screen and device perfectly while maintaining a perfect touch sensitivity and long-term durability. The full adhesive is referred to as "Easy Installation" on the packaging. Implemented below the glass there is a shock absorbing and anti-shatter film to avoid glass shards if the tempered glass should break. This means a PanzerGlass™ handles even extreme impacts securely and safely.